Evening in the Old Town / Abend in der Altstadt
An Audiovisual Soundwalk after "European Sound Diary" (1977)
by Giovanni Cestino
LEAV, 2019, 17′
Camera, sound recording, and editing by Giovanni Cestino
Vienna, February 27th, 2019
In 1975, Raymond Murray Schafer and his research group, the World Soundscape Project, toured in Northern Europe to study different rural and city soundscapes. A narrative account of the trip, published in 1977 and entitled European Sound Diary, resulted from a selection of passages elicited from the diaries of each person of the group, arranged by Schafer himself and combined with city soundwalks to be performed by future readers. A soundwalk is an «excursion whose main purpose is listening to the environment» (Westerkamp), «a form of active participation in the soundscape» (Truax) introduced by the World Soundscape Project to promote critical listening.
In its written form, a soundwalk often comes as a map showing a precise itinerary to follow, accompanied by verbal instructions prescribing where to go, and what to focus the listening on. The written text sometimes quizzes the reader's listening skills in a 'treasure hunt' for specific sounds the authors wanted to highlight. Additionally, they may also prescribe some elementary soundmaking practices, to test the acoustic properties of places or objects the walkers will encounter on their way.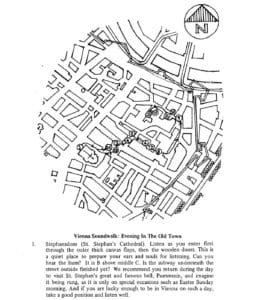 Nearly 45 years after the World Soundscape Project trip, Giovanni Cestino performed the Vienna soundwalk again, documenting his experience in a 17' video. To enhance a first-person perspective, he recorded the audio with DSM microphones worn on his temples, and he shot the video with a GoPro action camera fastened on his forehead, so to coincide the point of view with the point of listening.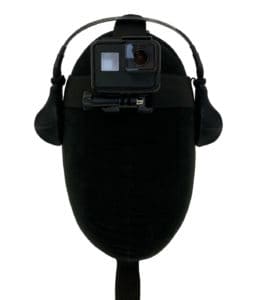 Subtitles, elicited from the original 1977 soundwalk, have been added as a step-by-step commentary, and serve as a touchstone of how the sonic environment of the city changed with the time passing. The result is an audiovisual product which works on multiple levels: while the audiovisual level mediates the researcher's experience, subtitles stimulate the audience's response to what they see/hear and what they read.
Full video
Poster