March 8, 2018
As part of the course in Ethnomusicology, Prof. Francesca Cassio (Hofstra University, NY) will hold a lecture on the female presence in Indian musical culture and literature. The lecture will take place at the Department of Cultural Heritage and Environment, University of Milan (via Noto 8, aula K02), at 12:30.
Abstract
Based on iconographic, literary and oral sources, this lecture discusses the repertoires performed by women in private and public settings, from the temple to the court. In particular, the presenter debates the ambiguity of the musical texts, swinging between the categories of sacred and secular music in relation to the context of the performance. The lecture offers a reflection on the impact of gender ideologies on female music makers in North India, ranging from early music to pre-Partition era, with focus on the case study of the medieval poetess Mirabai and the 18th-19th century courtesans' tradition. The event showcases original audio-visual materials from Prof. Cassio's archive, and it is enriched with live examples of traditional compositions sung by the presenter.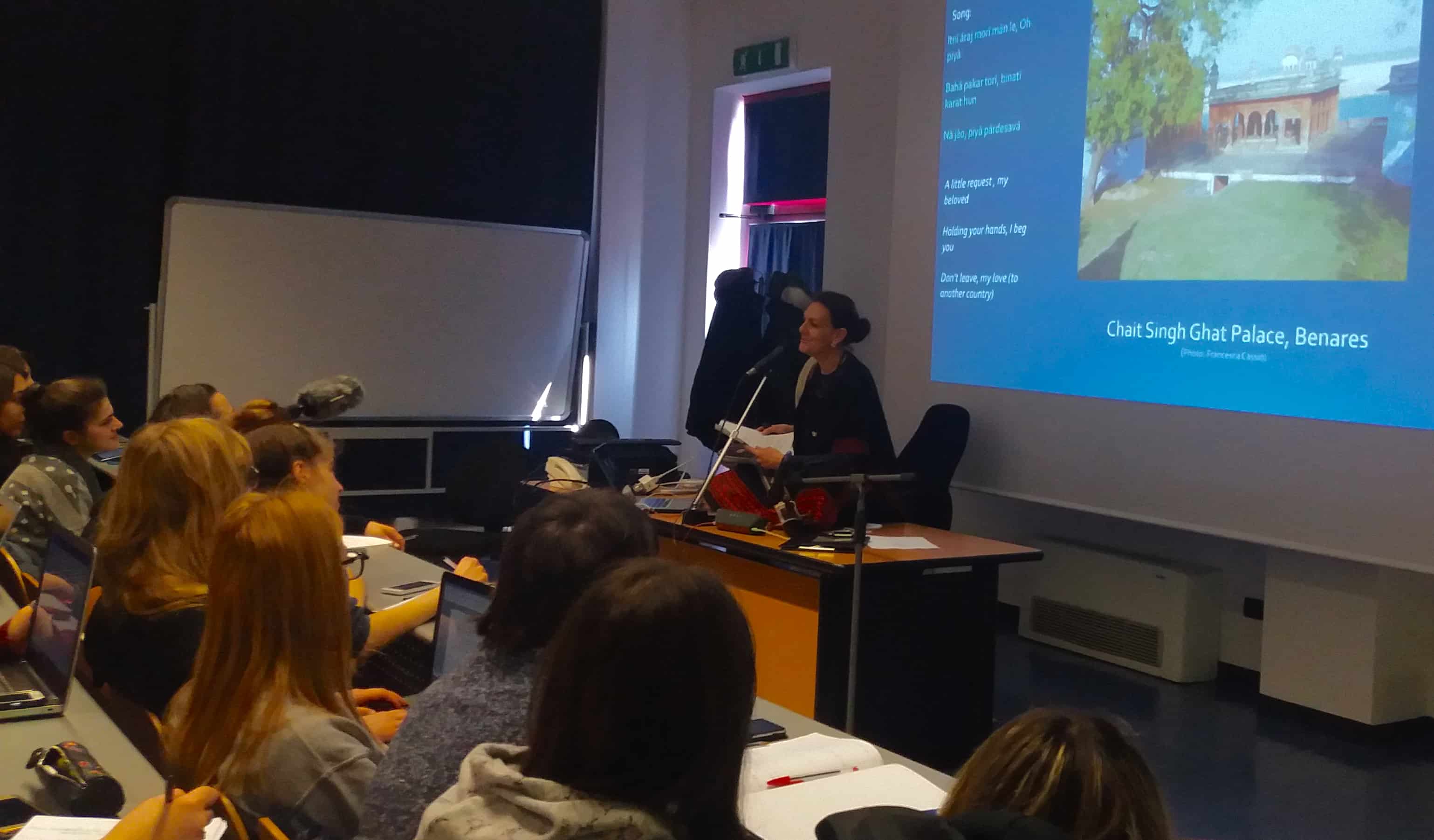 Poster
locandina_080318_vers1

Francesca Cassio on Academia.edu
Francesca Cassio is Full Professor of Music at Hofstra University (NY), and since 2011 holds the first endowed chair in Sikh Musicology established in the United States.
Since 1994, Dr. Cassio has conducted extensive research in India, where she lived and has been professionally trained in classical vocal music and in the Sikh kirtan repertoire, according to the Guru-Shishya Parampara ("teacher-student") tradition.
She is disciple of legendary masters of the 20th century: the dhrupad singer Ustad Rahim Fahimuddin Khan Dagar, the thumri singer Vidushi Girija Devi, the temple musician Hazoori Ragi Bhai Gurcharan Singh. Dr. Cassio also received extensive vocal training in vocal by Bhai Baldeep Singh, the 13th generation exponent of Gurbānī kirtan maryada, and by Professor Ritwik Sanyal (Benares Hindu University).
Prior to joining the Hofstra faculty, she served as a visiting professor in musicology at Visva Bharati University in Shantiniketan, India; lecturer of ethnomusicology at the University of Trento, Italy; lecturer of anthropology of music at the Conservatory of Adria, Italy; and lecturer of ethnomusicology and Indian music at the Conservatory of Vicenza, Italy.
Accomplished performer and scholar, Dr. Cassio is the author of several publications, including a monograph on dhrupad (Percorsi della voce. Ut Orpheus: Bologna, 2000). In 2015 she was awarded the Stessin Prize for outstanding scholarly publication, with the article "Female Voices in Gurbānī Sangīt and the Role of the Media in Promoting Female Kīrtanīe."